David Gore
Moderator
Username: david_gore

Post Number: 2464
Registered: 4-2003

| | |
| --- | --- |
| Posted on Friday, 10 March, 2017 - 09:21: | |
---
USER ALERT,

If you are using the latest updated version of the Firefox web browser [V52] you may experience problems logging into this and other websites.

If so, the problem is with the browser and not the forum as I have had the same problem.

Firefox have incorporated a message that displays each time you try to access an unsecured website [i.e. any address that has http at the beginning and not https ] and you then have to click on your username that is displayed at the bottom of this message to enter your username and password manually EVERY time you would normally login.

This will happen with every site you visit that does not have a https address.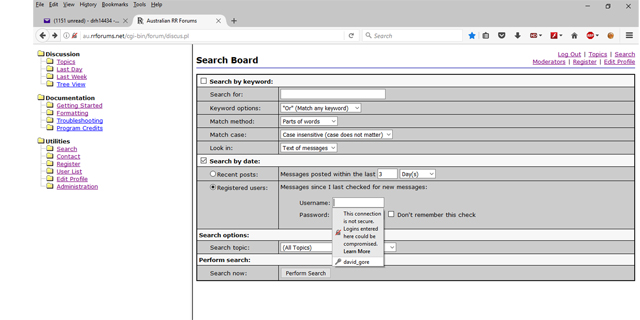 On this forum, when you try to enter your user name manually, the first warning may be as below:

"Error
The name you entered too closely resembles the username or full name of a registered user or moderator on this board. As an unregistered user, you must either obtain an account of your own, or otherwise enter a different name."

Do not hit the "Cancel Post" key; just click on the Username field again and the message containing your username will appear as shown in the first image; just click on your username and it will appear as usual so you can complete the posting.

This is the procedure I had to use to post this message.

IMHO a real PITA and I am advising Firefox accordingly.