Glen Poolen
Frequent User
Username: wgipps

Post Number: 246
Registered: 03-2018

| | |
| --- | --- |
| Posted on Tuesday, 28 April, 2020 - 11:39: | |
---
Hi
The header tank probe rubber boot has perished on SRH17903 after a recent water pump rebuild.

Does anyone have a spare available please - condition doesnt really matter as long as it works.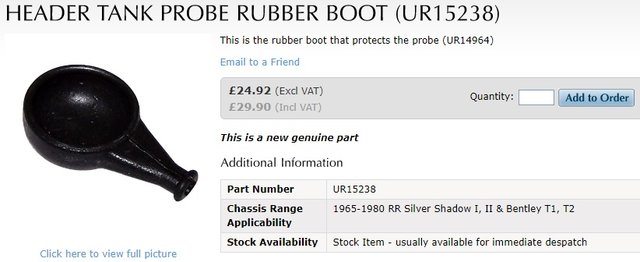 Jeff McCarthy
Frequent User
Username: jefmac2003

Post Number: 662
Registered: 05-2007

| | |
| --- | --- |
| Posted on Tuesday, 28 April, 2020 - 14:46: | |
---
Glen that price is just silly. I bought a standard rubber boot on ebay for much cheaper years ago. The narrow part is a little different but not AU$50+p&p different. Just measure the diameter of the switch and search accordingly.