Chris Gillings
Frequent User
Username: chrisg

Post Number: 70
Registered: 4-2001

| | |
| --- | --- |
| Posted on Wednesday, 27 July, 2011 - 11:31 am: | |
---
A few years ago my Mk VI's exhaust manifold developed a crack. I decided to 'temporarily' hold it together with a jubilee clip and some fibreglass heat webbing. It seemed to do the job well and I pretty much forgot about it. So much so that I actually forget exactly when I did it. I know it was on when I drove to the last RROCA Federal Rally in South Australia.

Yesterday it was taken off and here are the pictures of what was lurking (or wasn't!) under the fibreglass webbing.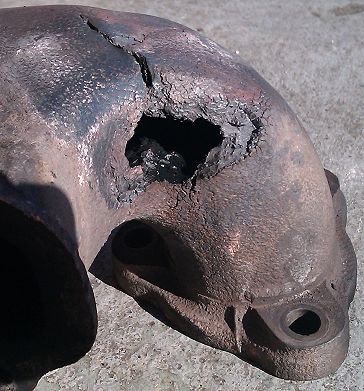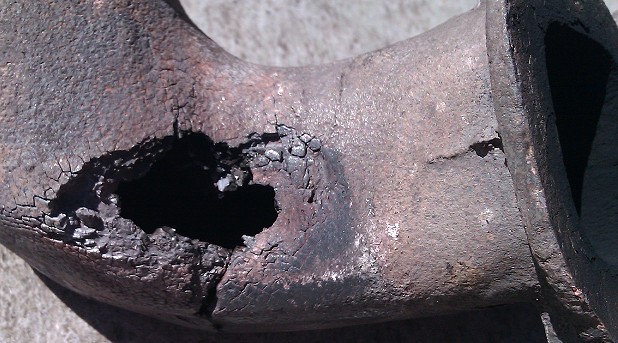 Gary at North Shore Performance Mufflers described the surrounding metal as having 'stretch marks' resulting from uneven heating and cooling over a long period of time. The damage isn't localised, either: there's evidence of the crack continuing all the way along the top of the main section from cylinder four to six.

I've decided I need to be punished for this act of gross negligence on my part so I will be completely replacing the manifold rather than getting it welded up. I've located one and trust that it's the right size for a 4.5 litre and not for a 4.25 (which we're not sure is the same size).

Hopefully the old girl will forgive me.

(Message edited by chrisg on 27 July 2011)







David Gore
Moderator
Username: david_gore

Post Number: 1014
Registered: 4-2003

| | |
| --- | --- |
| Posted on Wednesday, 27 July, 2011 - 06:27 pm: | |
---
Hi Chris,

Nothing unusual in the mode of failure - just classic gas erosion and thermal fatigue cracking of a cast iron exhaust manifold. I doubt if your "temporary" fix has acccelerated the rate of failure; in fact, it might have slowed the cracking as the fibreglass pad would have acted as an insulator and reduced the thermal gradients around the eroded area. The severity and rate of crack propagation increases as the rate of temperature fluctuations increases.

The most effective way of reducing erosion of the cast iron in the manifold bends would by ceramic coating the areas subject to erosion. Another option would be to replace the cast-iron manifold with a set of fabricated stainless steel headers connected to the exhaust system. If originality is a problem, the stainless steel unit could be used for everyday driving and the original cast iron unit re-installed for those occasions where originality is paramount.